When I was at the fabric store yesterday looking for an older fabric (Pepe in Paris Main White–which they had long ago sold out of) that my son, Prim, saw and loved in a charm pack I was cutting up for hexagons, I ended up filling out my medium blues.  I hope it's enough, but that's a post for another day.
Today's all about my two year old, Sec.  He came with me to the fabric store, and since it was the first Friday of the month, fat quarters were on sale for half off.  Not only that, they had a whole slew of extra FQs for sale aside from the usual display.  I need to go every first Friday.
He immediately started touching stuff while I was looking for blues, but I realized he was trying to take a particular red fat quarter.  I decided to get it for him.  He also wanted another red, and a light blue.  I told him to pick one more, maybe a yellow, and he did: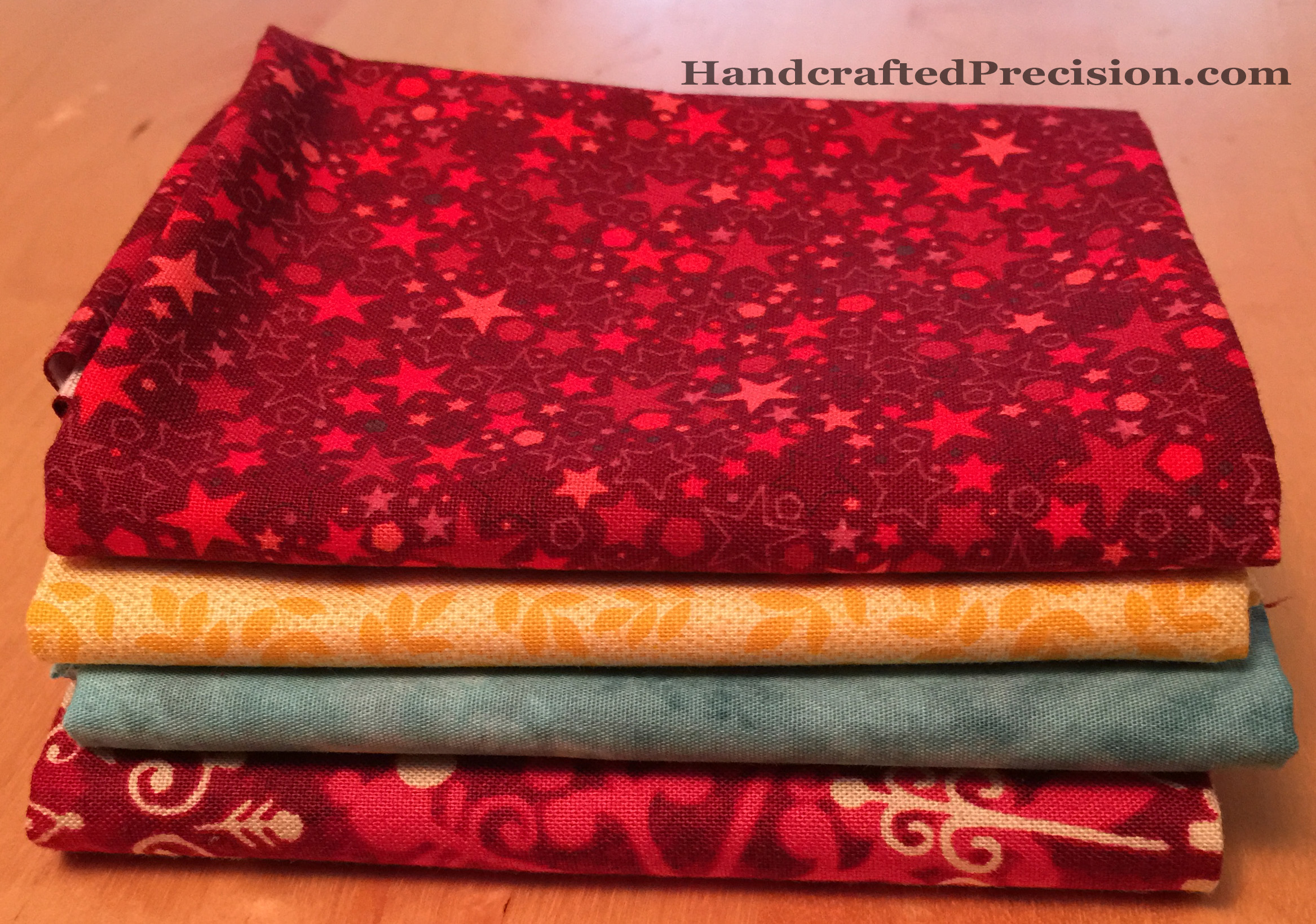 First, I'm amazed at how true to color this photo is, except for the blue.  Second, he has really good taste.
When we got home, I freaked out about what to make for him from these fabrics.  Four fat quarters (essentially a yard of fabric) isn't even enough for a new, bigger couch blanket for him and I didn't want to ruin his color story by adding prints from my meager stash.
The prints are old(er)–only three had selvages.  The top one didn't, then below that are Magic Vine by Eleanor Burns (which I think I'd bought a FQ of previously), Sand in My Shoes by McKenna Ryan, and Stonehenge Starry Night by Deborah Edwards.  I could have sworn I just saw that last one on clearance online somewhere.  I searched and quickly gave up on ordering more of any of them.  I could go back to the fabric store for more FQs (I think I saw some of each) to make a twin bed quilt for him (he needs two bed quilts since he's a little kid), but I also like a challenge.
I thought about adding some color-matched FQs and featuring large swaths of each print, since I'd like to get something done for him soon.  I considered making Boho Girl by Amy Smart, but the quilt ends up a weird size (I'd like my twin bed tops to finish at about 74″ x 92″ before quiling) and it isn't FQ friendly.  Then I thought I'd do a large-scale improv herringbone, with just five long strips of the herringbone and narrow white borders, but that would take a bunch more fabric and wouldn't be quick.  I'd like Sec see the fabric he chose become something soon so he can make that connection.
Then it hit me.  We just got him a twin bed AND A NIGHTSTAND!  I'll make him a little quilted topper for the nightstand.  Four FQs is probably enough to make the top, piece the backing, and have some left over for binding.  If not, I can pull a smallish piece of coordinating fabric from my eBayed scraps or use the matching yellow FQ I bought previously, if nothing else.
It took me five hundred words to say: A small quilted nightstand topper, "Berries with Lemon", using Sec's fabrics is my January goal for 2015's A Lovely Year of Finishes.  I'm thinking about doing tumblers, since I've never done them before, they seem fairly simple, and they're not squares.  Alternatively, I'll do bricks, since I won't have to match any corners.  Yeah, I think I talked myself into bricks.