Is a rectangular medallion still a medallion?  I dunno, but that's what I'm calling it.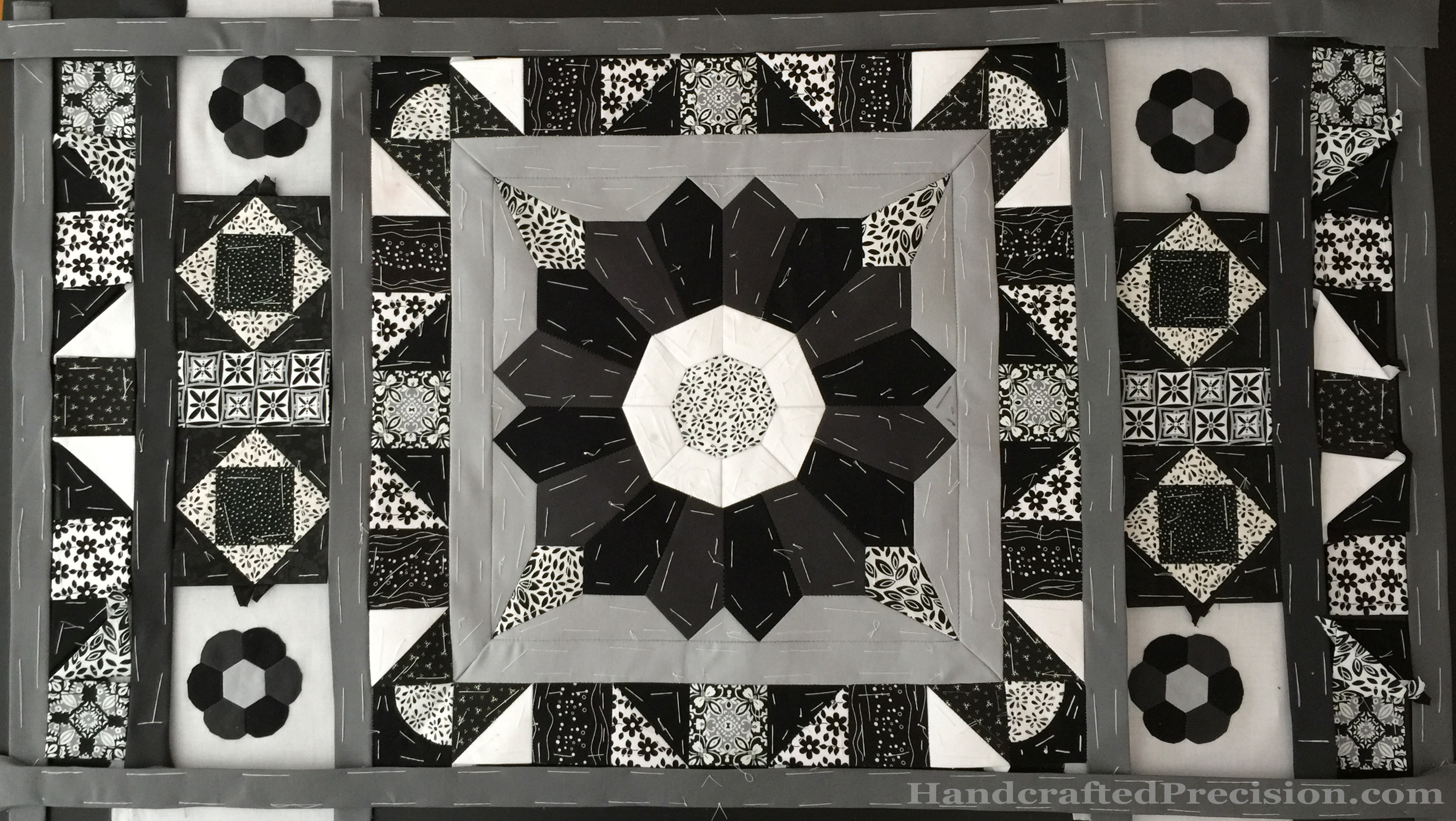 Yes, I'm still piecing it all by hand over paper.  Why?  I really don't know (ie, same reasons as before).  The four small flowers are EPPed, then hand-appliqued to the white background fabric.  The fabric looks dull because it's sitting on a dark surface, which shows through the white.
Believe it or not, but this layout took much agonizing.  Yes, really.  But I'm almost entirely happy with it.  I think I should have done light flowers on a black background.  I still might, I dunno.  If I do, I'll save these for a later round.
I'm also not thrilled with the curved edges of the flowers–they're not smooth.  I think I need one of those teeny craft irons, but I don't think I'm going to make this a habit, since I found the applique fiddly and annoying.  My stitches are nowhere near invisible, either.  I prefer to EPP a whole block.  Or, someday, machine applique the motif down.
I have decided on my next round, at least.  I'm going to do full Storm at Sea blocks in the corners and midway down each long edge (for a total of six–I ordered the papers well before Rachel said that one package does six small blocks, so I have WAY too many Storm at Sea papers) and the same sort of 2″ checkerboard that Rachel has as her next Modern Medallion round, but mine will be one block wider, and I'm going to do a pattern in the checkerboard instead of making it random.  I'm thinking more Drunkard's Path blocks to actually make a path.  I have a sketch of it, which I'll post at some point along with more progress photos.
This post was just a quickie for the Handstitched class people, but I might link up with Sunday Slow Stitching at Kathy's Quilts, since that's clearly what I'm doing with this project.