Seeing a distinct lack of orange in the scraps that I bought from eBay, I decided to buy some.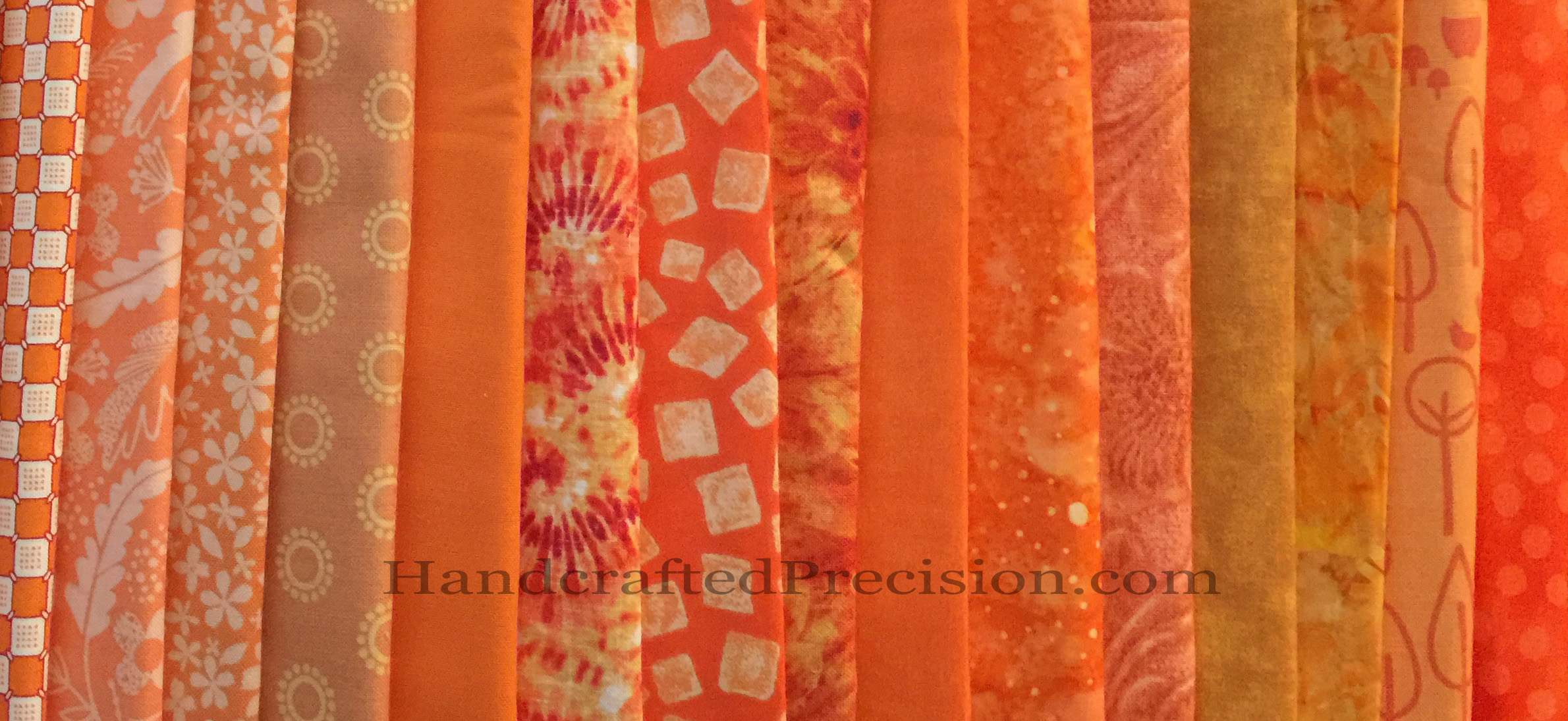 Pretty, right?  I needed way more oranges for Sec's pumpkin quilt, and now I have them.  Most of them are half-yard cuts, except when I got the bolt end.  But buying these (and the rest from that order, which is not pictured as it's not orange) was tedious, time-consuming, and frustrating.
Storytime!
I'd ordered some fabric once before from Fabric.com (they don't get a link because of my awful experience with them–keep reading), so I went with them again since I already had an account.  I spent a good amount of time putting fabric into my cart, but I wasn't able to checkout.  When I hit the "checkout" button, the cart jut reloaded.  I restarted my browser. No dice.  I tried a different browser.  Nope.  I even restarted my computer, even though the problem clearly wasn't on my end.  Of course that didn't fix it.
So I contacted their customer support, spent a lot of time on hold, then explained the problem and said what I'd done to fix it.  She couldn't deviate from her script, which was frustrating, since it meant she couldn't discuss the problem with me.  She asked me to take a screenshot, even though I told her that it would just show the cart looking like the cart, but she insisted.  So I took a screenshot of the cart and emailed it to her.
A day later, after clicking on that stupid "checkout' button a lot more and getting progressively angrier, I got a canned "we're kicking it up to our engineers" email, but I knew it would go nowhere.  I would have abandoned the whole thing, but I'd spent a lot of time picking those fabrics, most of which were on sale.  Other online retailers had some of the prints, but not all, and I just wasn't interested in looking through my lengthy cart and finding all of the fabrics somewhere else.
I was ready to write the whole thing off, but I tried one last time and the transaction went through.  I saw what the problem had been right away.  Whatever module or system or service they use to calculate sales tax had broken, which made the whole transaction fail.  This is ridiculous, since the sales tax was eighty cents or so on a very large order (which almost didn't get placed).
Any real ecommerce company would have let the transaction complete and eaten the sales tax.  I did let them know that I was able to complete my purchase, but I never heard back from them.  Once I contacted them about it, a good company would have apologized and given me a discount or a coupon or something, anything to make me less angry at them for wasting my time over their problem.
I'm used to fantastic customer service because I buy almost exclusively from Amazon online.  I wish Amazon sold fabric by the yard.  Or precuts.  Amazon needs to buy Fabric.com, like it did with Diapers.com.  Fabric.com could use Amazon's cart technology as well as its "You bought this on <some date>." technology.
Anyhow, that's the tale of why I don't like shopping with fabric.com.  Storytime's over.
UPDATE (19 Nov 2014):  I've been getting Fabric.com's "deal" emails for a while now (because even though I said I'd never use them again, I have an account there already and inertia is a powerful force) and they very seldom have sales for more than 15% off, but they almost always have a 15% off sale going on, which in my eyes is like the electronics store perpetual going out of business sale.  (Which is illegal.)  Bottom line, avoid Fabric.com.  There are better online fabric stores (like Fat Quarter Shop and Connecting Threads), especially for quilting cotton.