My local quilt shop, amazingly, had a charm pack (5″ squares) of cotton lawn fabric (Moving On Lawns by Jen Kingwell Designs for Moda).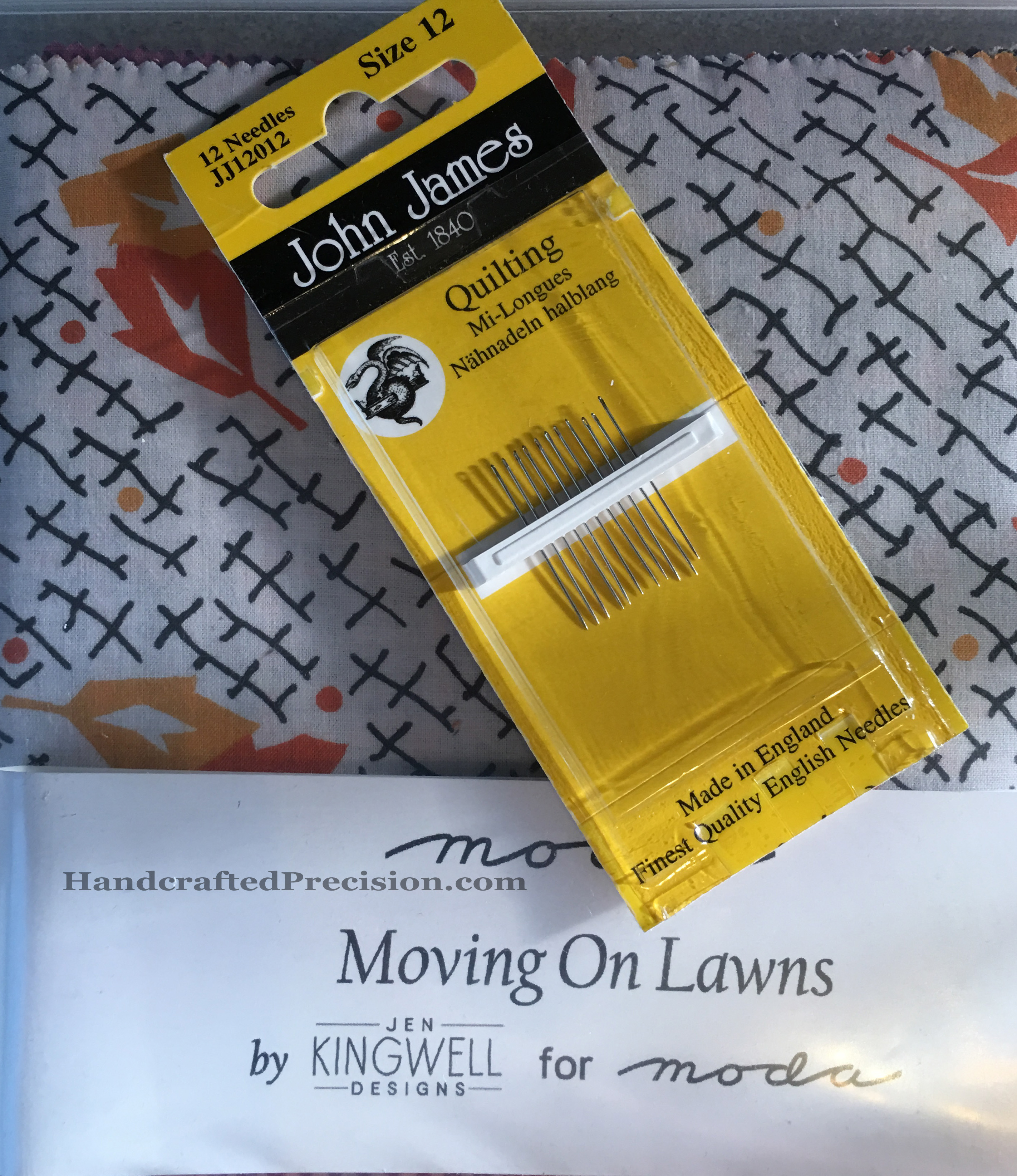 Apparently lawn quilts are a thing now, since they're light and airy.  This charm pack's fabric patterns weren't the best for the 1/8″ or 3/16″ hexagons, but since it was just a trial for weight, it didn't matter.
I also picked up some John James size 12 quilting needles.  I'd heard good things about the brand and the quilt shop lady said that was the smallest they carried, and that the short length would help.  Well, she was not wrong.  I won't keep you in suspense, though my camera was unenthusiastic about focusing on such small things:
I used a size 12 quilting needle and one strand of my usual 50 weight thread (the quilt shop didn't have anything finer).  I started on the pink one, and I think you can see what happened: though the fabric itself was easier to fold, the paper inside also folded as I was folding the TINY seam allowances around it.  I was more careful on the blue one, but had the same problem.  It was really hard to hold onto the tiny, tiny paper, too.
Then I had the genius idea to use cardstock instead of the thick paper I'd been using.  I cut a 1″ hexagon from Paper Pieces into the 1/8″ size.  It was pretty silly.  So much waste from a 1″ hexagon!
Then I did the green one SUPER-carefully.  It's still not even, but it was the best I could do.  Honestly, I could practice and get marginally better, but the paper's never coming out of there and it's never getting sewn into anything.  It lays flat (the other two don't) and looks mostly hexagonish, so I'm calling it a win.
Remember that those sides are 1/8″ wide.  So half of that is 1/16″ of an inch.  If the fabric folding (or the paper hexagon) is off by a SLIVER, you get the unevenness of the green one.  It's way better than the ball of fabric I did for my very first one, so I'm satisfied.  I think.  I hope.
It was truly ridiculous.