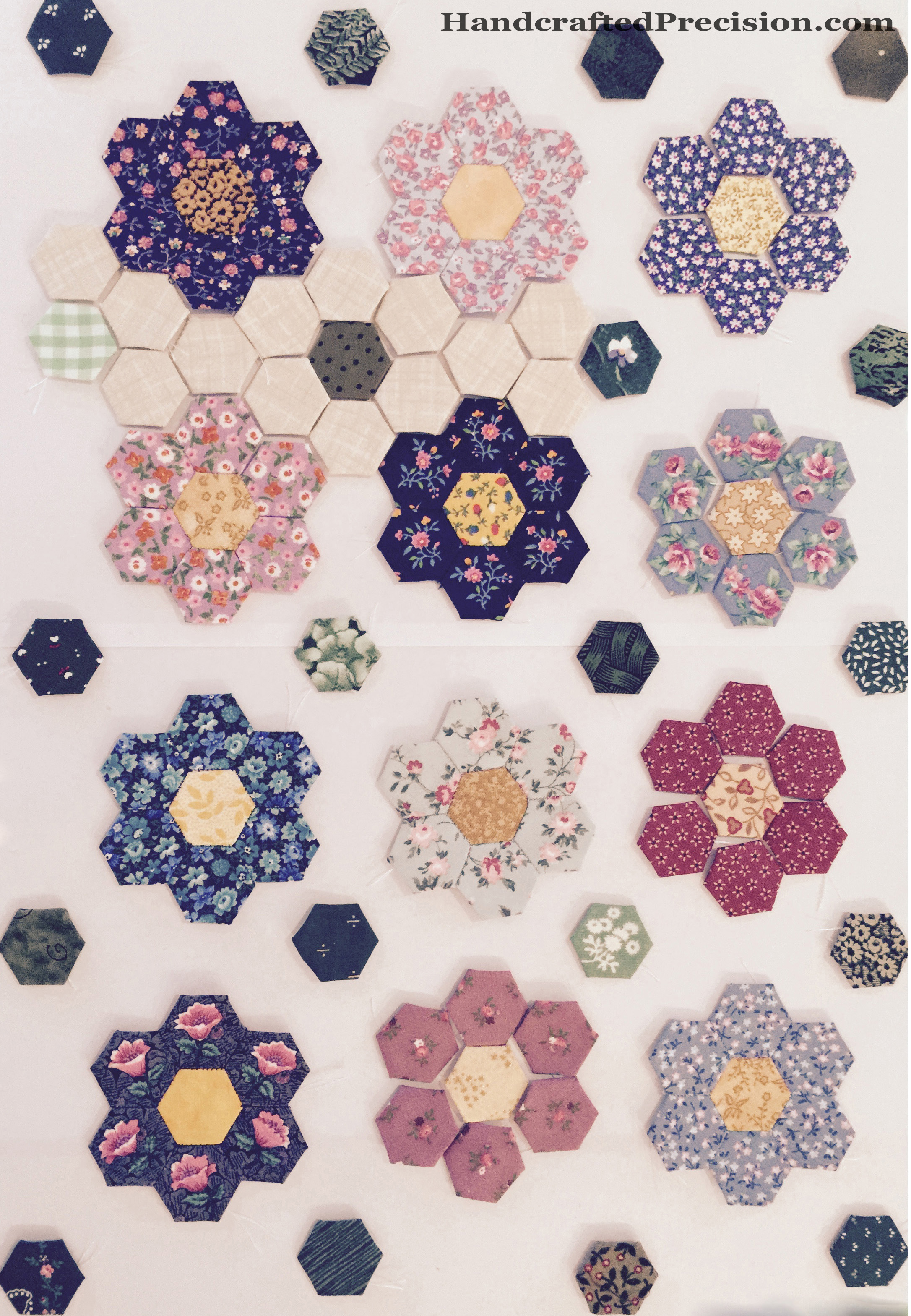 Picture up front today!
I chose and cut fabrics for all of the scrappy green leaves and got them basted onto their hexagons.  I was originally going to just use the green flowers fabric but I realized it's the same design as the yellow flower center in the upper left.  That would have been weird.  Scrappy's the way to go for this little wall-hanging anyway, I think, but I'm not so sure about that green and white gingham on the left.  It's a little too pale.  I'll leave it for now and let it sit in my brain.
I also finalized the scrappy yellow flower centers.  You'll note that there's one repeated fabric.  It looked best with those flowers and I decided not to sweat it.  It's supposed to be eclectic and scrappy.  I'm using what I have.
You'll see that I basted a dozen or so of the tan crosshatch background and I hate it.  It's too dark and too rigid and formal.  Back to the fabric store, I guess.  I'm sure I can use it for something else, but if I'm putting all of this time into the hand sewing, I want to LOVE the final product, even if it's not totally my thing.
You'll also note that I've already sewn some of the flowers together and hit with the iron. Progress!  The older EPP guru lady at the fabric store said to use heavy starch, so I'll need to get some at the grocery store.
The colors aren't showing true in this photo.  I think that the beige background crosshatch fabric might be a little too dark and a little too boring.  You can click through for a full-sized picture.  I'm trying not to stress too much about it since it's a practice project (and my first EPP project), and it's for Prim and he'll like it no matter how it turns out.
I guess I have to go back to the fabric store.  <sigh>  I thought that since the 1/2″ hexes were so small I'd be buying a lot less fabric.  Things have not turned out that way so far.  It's not terrible, since I'm a new sewer and have very little in my stash to begin with–and I am still pursuing some machine-pieced projects.  I'm just infatuated with the hexagons lately.  I need a permanent place for my sewing machine.  Dragging it out every time is getting old, which is why I think I'm favoring the hand sewing.  It's much easier to get my little container of supplies and get set up to hand sew.
I've managed to put my mind at ease about the whole "some stitches show on the front" issue. I've come to rest at "good, because it's handmade–people aren't machines". And that's an okay place for me, I think.
I am regretting being lazy for one of the light flowers and not changing out to a lighter thread.  Maybe I'll take photos of it and pretend I did it on purpose to show my process.  Ha!