Ugh.  Well, the new center was looking a little Pokeball to me.  I think the strips beside the windows were too narrow, so I hacked them out and the center's now a reverse-appliques circle.  Or, it will be, once I choose a new feature fabric.   <sigh>  Let me backtrack a little.
I'd decided on breaking up the expanse of black-on-white leaf fabric with a connected circle in a circle.  The freezer paper template: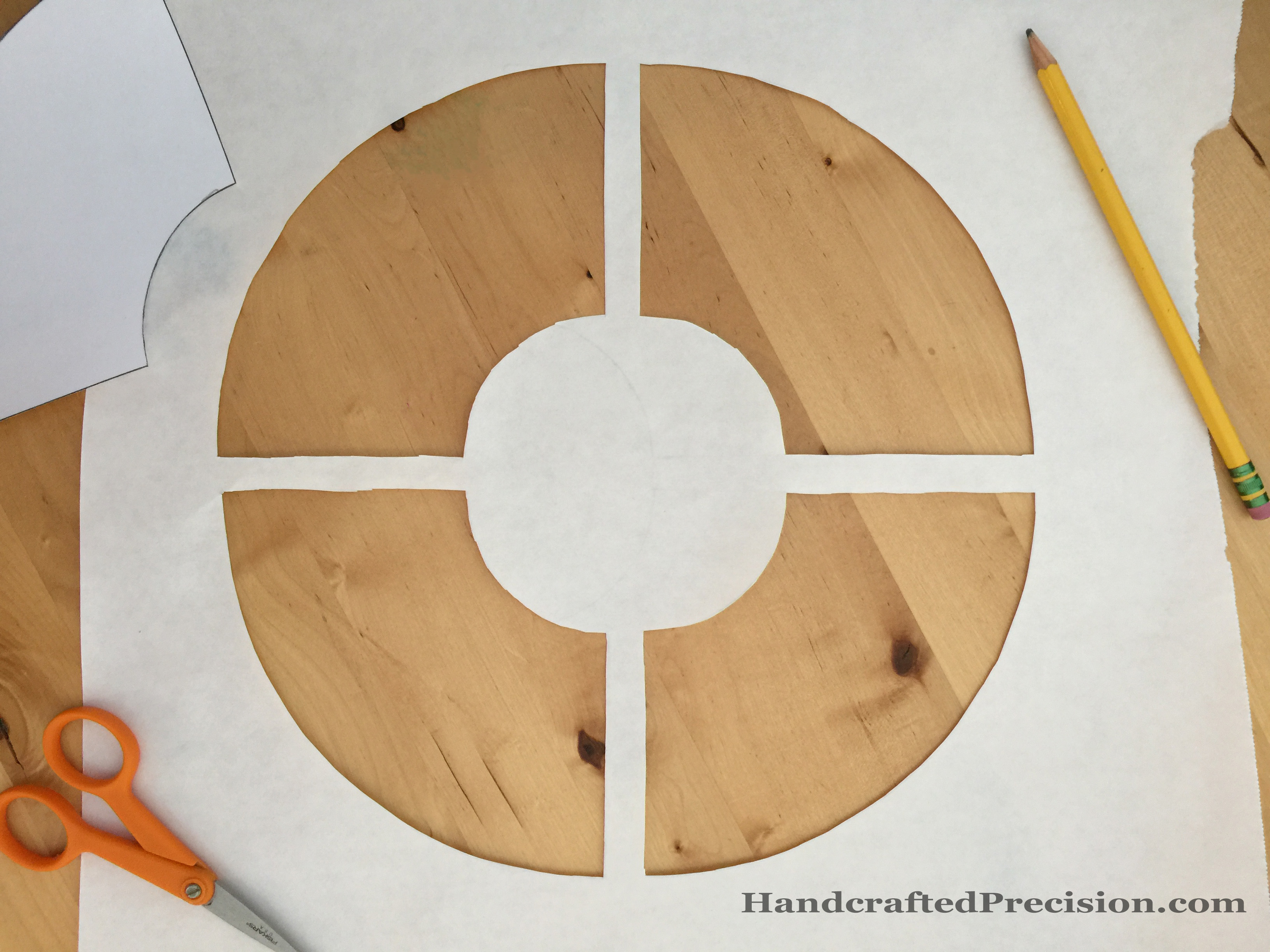 I should have known that those connecting bars were too narrow.  Also, when I folded back and pressed the black background fabric, I had the same problem as with the dogwood blossom, though not as severe: those corners suck.
I agonized a lot (what's new?) and laid the new black background over the old dogwood blossom that was already appliqued.  I also took out the strips I'd cut for the next borders and the bits of the EPP that I'd basted since I decided to change things up last week.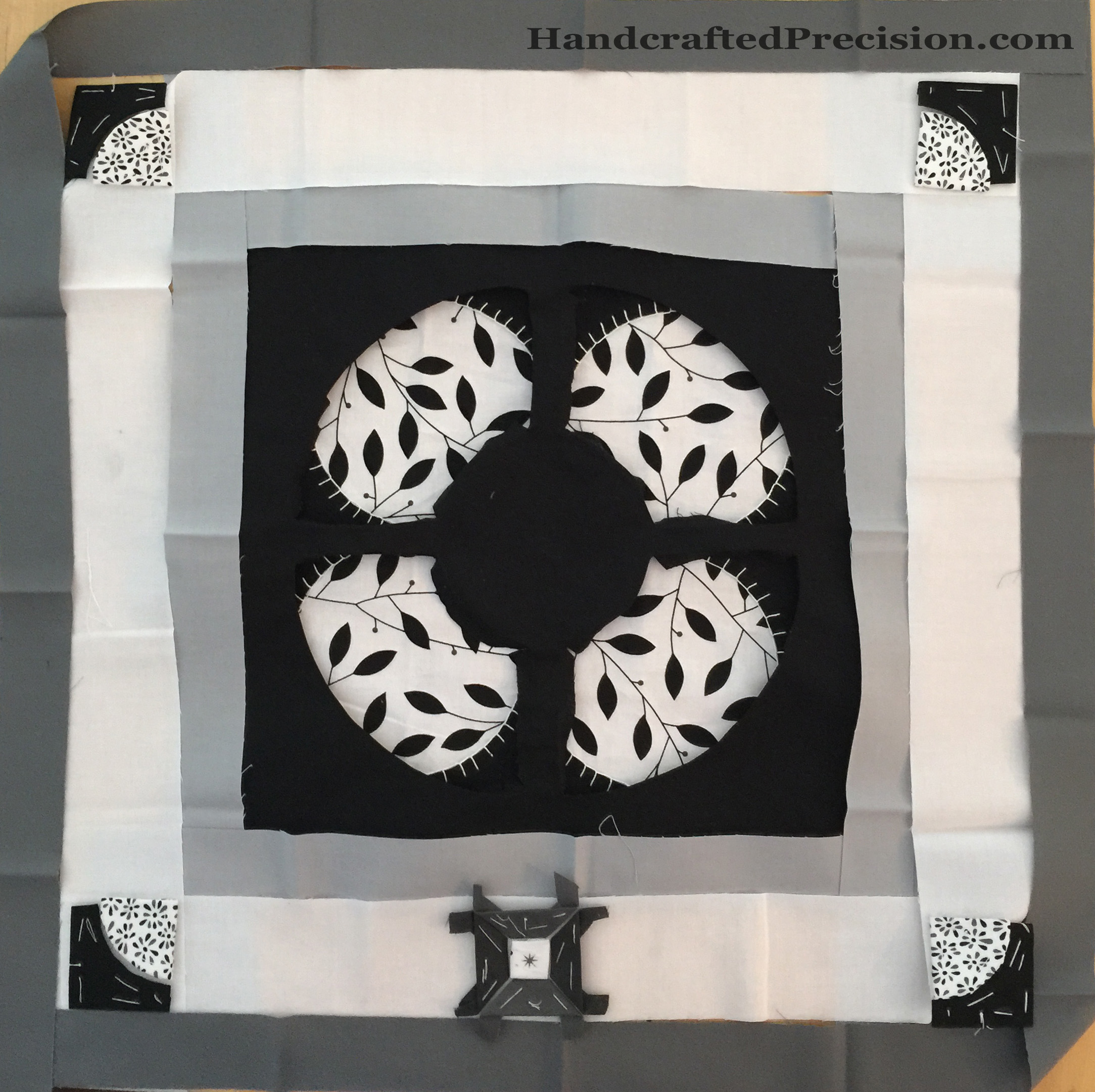 [As an aside, in thumbnail, this shape of the flower that appears when I have the circle over the dogwood blossom is quite appealing to me.  Maybe I'll do something like that someday–but not today.]
So, good, circles in the center and little EPPed Drunkard's Path blocks, dogwood "jewel" replaced with fussy-cut star (the smallest paper piece I've used yet!) surrounded by greys.  But the bad was the more I stared at it, the more I hated those thin dividers and the central circle.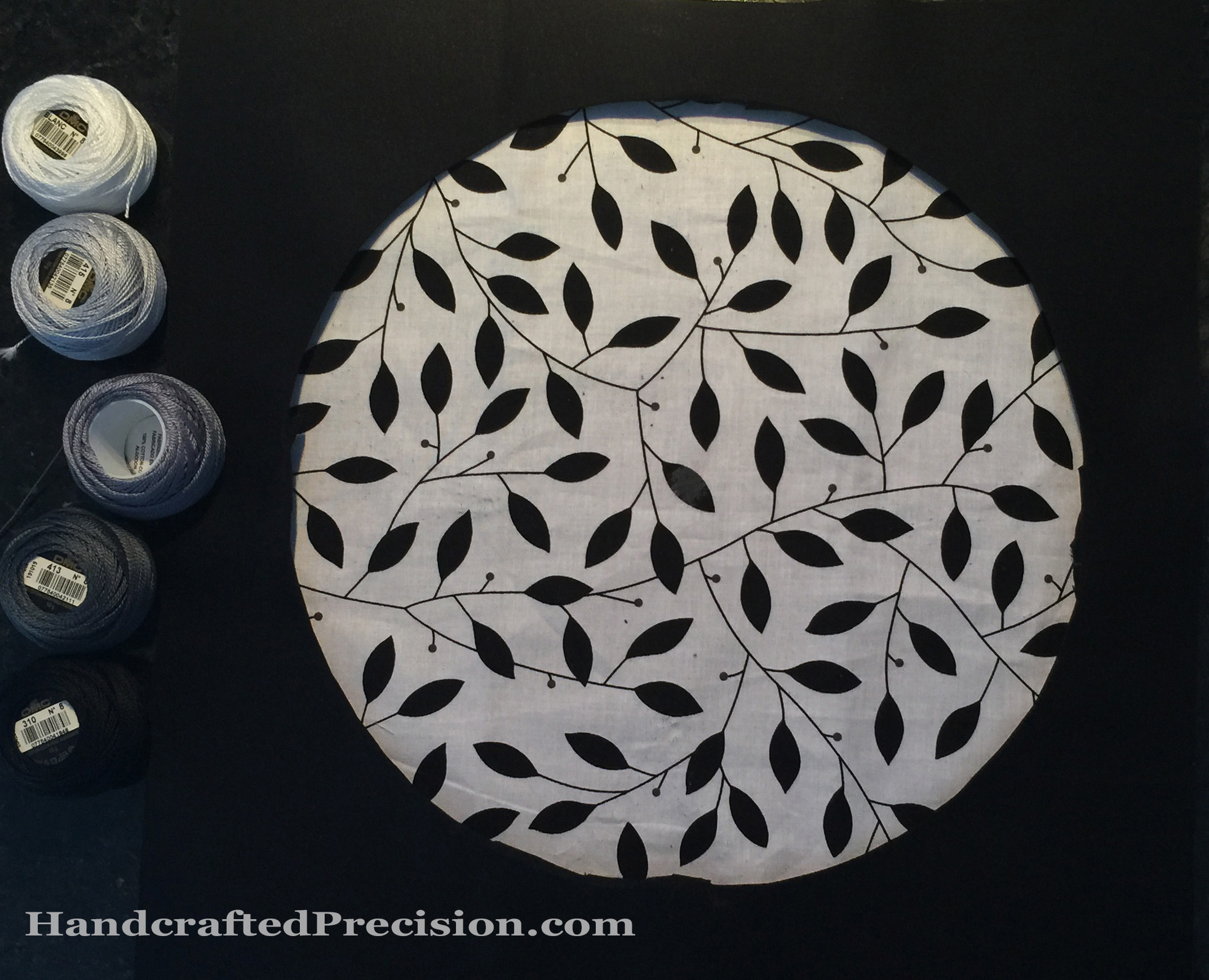 So I cut them out.  That central fabric still isn't "important" enough for this medallion, but I've ordered a couple prints with big motifs I think might work.  Since I'm not going to do all of the embroidery, I'm not in a giant rush since I have two more weeks to get everything in the mock-up above done and sewn together.
Here's a close-up of the basted Drunkard's Path blocks (each 2″ square), front and back in one picture: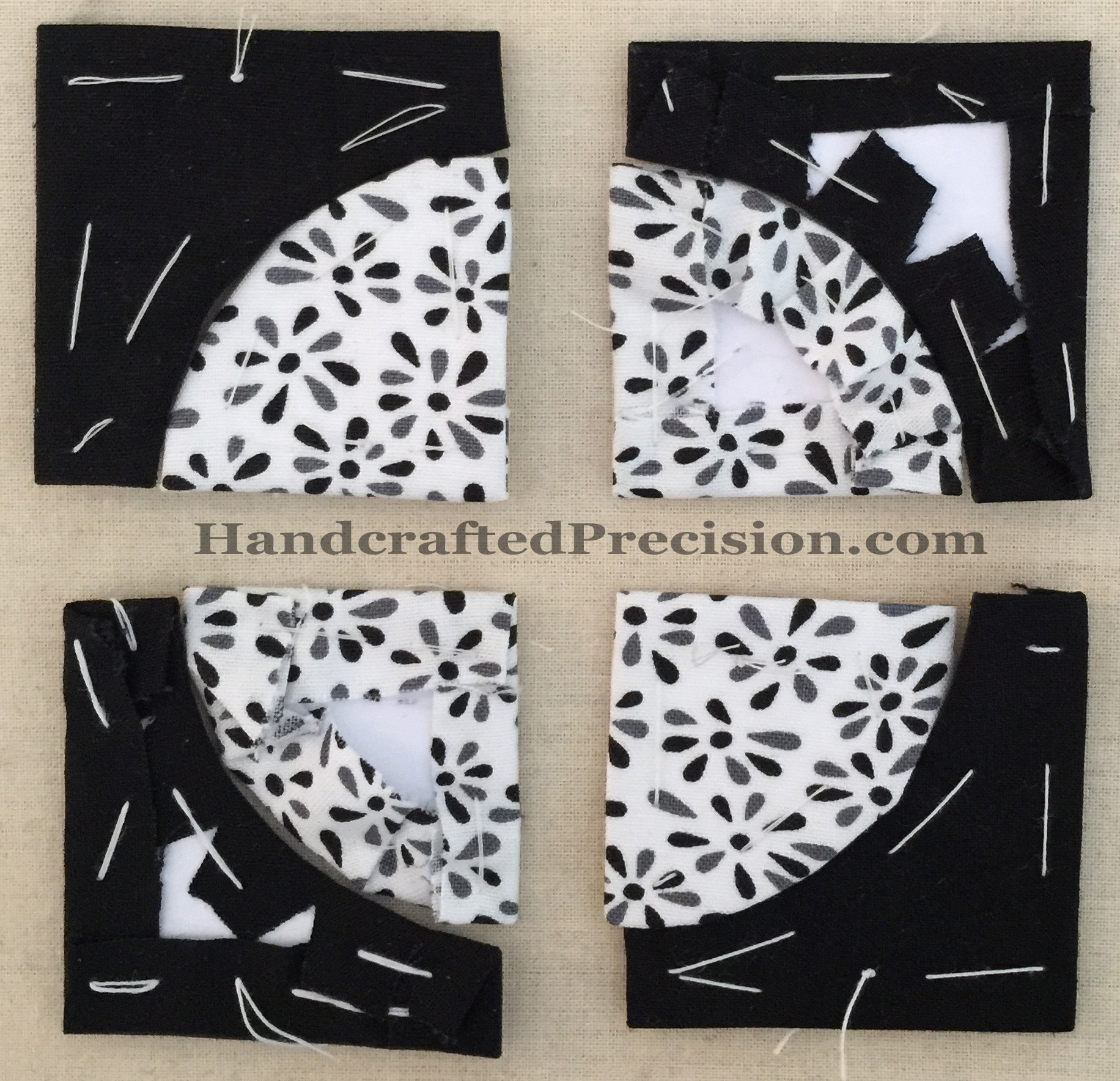 You might notice that I still have three square "slots" between each EPPed section in the handwork round.  What do I plan to put there?   I was thinking about doing a HST of greys on either side of the Drunkard's Path block, then a solid square of the black-on-white low-volume stars fabric, then another HST of greys, but I don't know if it'll work.  Something like this: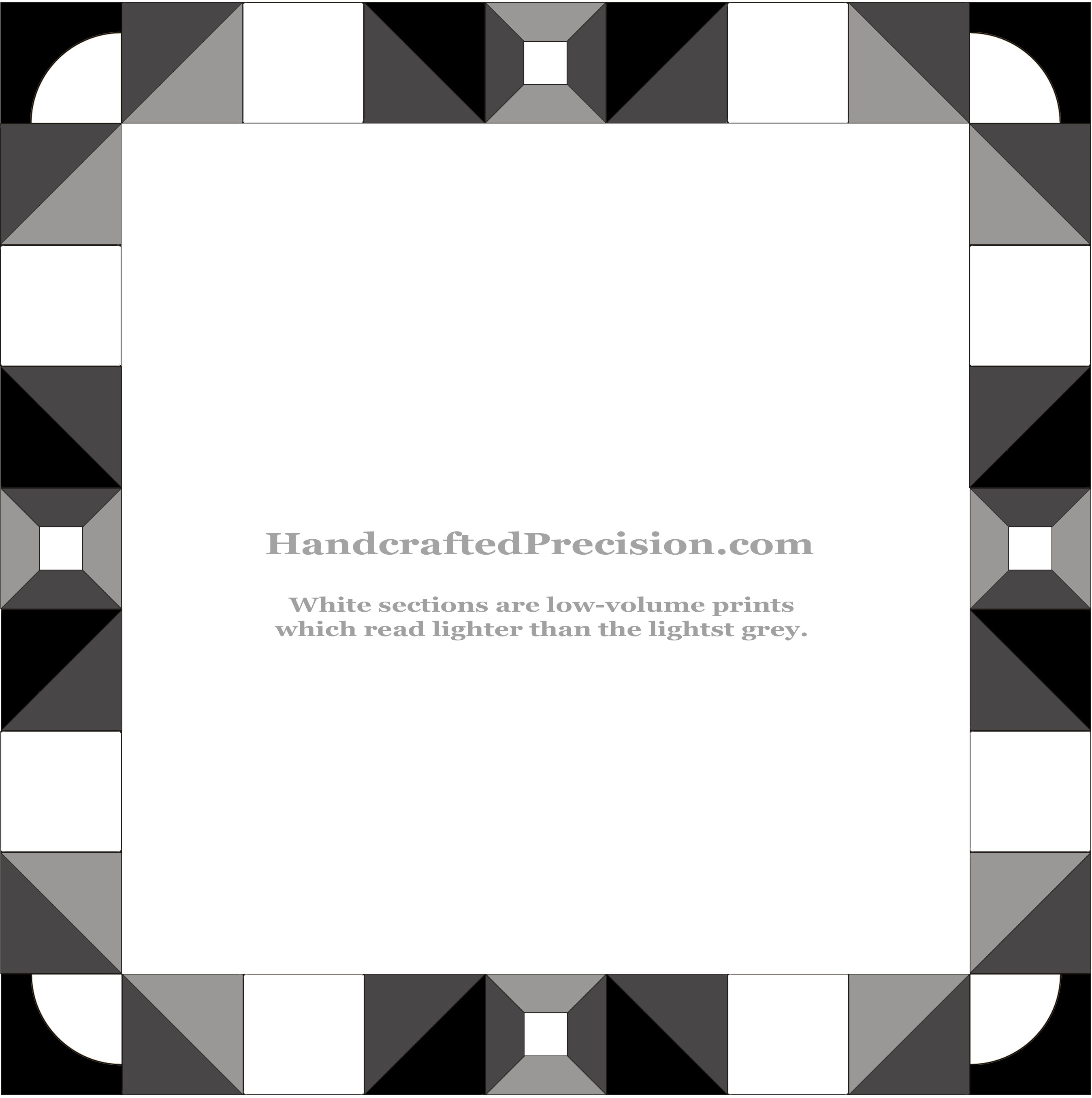 But I honestly have no idea what'll look good.  Suggestions are very, very welcome!
Thanks in advance!